I'm sure y'all have heard what's going on here in Austin, Texas.
Republicans all over the country have aggressively trying to insert their right-wing "values" into our collective lady-business, but few states have taken things as far as Texas. The bill HB2—introduced recently during a special session of Texas Legislature—would
severely limit safe, legal abortion in Texas
. It limits choice via access and it is complete horseshit, since abortion has been a fundamental federal right protected under the Constitution for over 40 FUCKING YEARS.

This situation really caught the national eye last month, when one amazing politician,
Senator Wendy Davis
, filibustered a previous version of the bill for nearly 13 hours straight without food, water or the ability to sit down. And who says the government doesn't condone torture?
Yes, the eyes of the country are very much on Austin, TX. Yet the Texas State Legislature—overwhelming controlled by Republicans—doesn't seem to mind appearing like total douchebags and buffoons in front of the media. Not only are their blatant attempts to quell the people's opposition deplorable, but the shenanigans have backfired, igniting a fiery feminist movement both here in Texas and all over the U.S. Oops.
Oh, they look like douchbags by trying to illegally pass an earlier version of the bill, arresting elderly ladies and cutting off testimony they don't like, but it's their sheer buffoonery that may prove to be their demise. Conservative Republicans are making themselves look like a secret society of village idiots. Unfortunately, they're not very good at keeping secrets.
In a scenario that could be the funniest article you never read in
The Onion
, today's state capitol fiasco was a doozy.
In preparation for today's proceedings, the
Texas Department of Safety staffed extra officers
to help search handbags for the most deadly of weapons: the common tampon. OK, in all fairness maxipads were not exempt from search and seizure. Nor were—in a masterful stroke of irony— condoms. That's right, folks. Today your tax dollars were hard at work protecting politicians from possible trajectory cotton and accidental cloaking.
Naturally and immediately, this created the world's funniest shitstorm on Twitter. Activists aptly dubbed the ridiculousness
#TamponGate
and it has yielded some of the most hilarious material I've ever seen on the social network. Professional comedians beware: the amateurs were faster—and maybe funnier—than you on this one.

Top 10 TamponGate Tweets:
 #1


 #2



 #3


 #4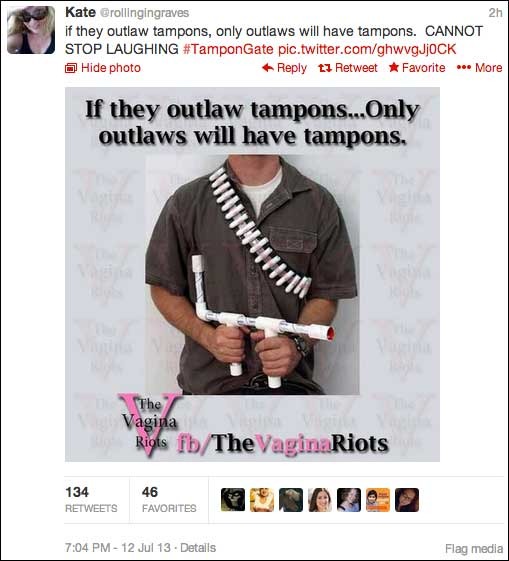 #5

 #6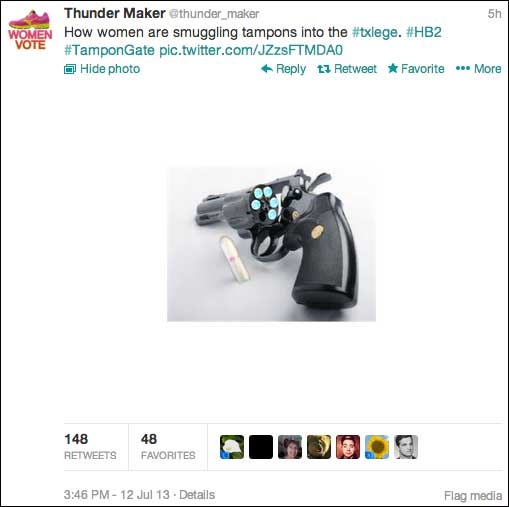 #7



 #8

















 #9



















 #10


















-Jezebel