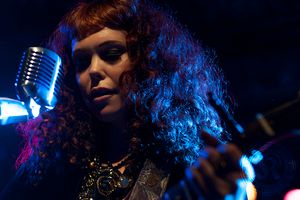 A few weeks ago, Jezebel Jones & Her Wicked Ways had the pleasure of opening up for one of my favorite live acts—
Slim Cessna's Auto Club
—at the legendary First Avenue/7th Street Entry in Minneapolis.
Slim's band was everything I remembered from the shows I saw at SXSW 2011—full of fire and brimstone and a kind of otherworldly music that's not found often…definitely not in this town.
Several years back, some blessed soul turned me on to 16 Horsepower and I fell into this rabbit hole; the oddly-spiritual roots-based bands that make up "The Denver Sound", much of which was produced by multi-instrumentalist/sound engineer,
Bob Ferbrache
.
CityPages music writer
Dave Hoenack
talks to me about Slim Cessna, the Denver Sound and my music in this interview on the music blog, Gimme Noise (
Check out the full interview here
).
This particular show was a bit surreal.
When I launched this project a couple of years ago, there's no way I envisioned us opening up for SCAC, who have just released their 8th album, 'Unentitled' on Jello Biafra's label, Alternative Tentacles. There were definitely feelings of unworthiness, but the Catholic schoolgirl inside kicked me hard and spurred me on…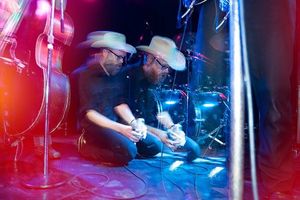 There were a few glitches to be sure, but we played one of our best shows ever—the lineup was killer, Jenny Russ on background vocals/electric guitar, Chris Bates on Upright Bass, Dave Russ on drums, and Scott Nieman sat in on bouzouki, which gave the music an eerier-than-usual air. We opened up the set with a spooky tune about Memphis, Sirens of the Mississippi (P.S.
you can download the song free
on our secret download page).
I tried not to notice when members of Slim's band emerged from the green room at various times during the show to watch us; I was nervous enough as it was…
We played to a very attentive and appreciative full crowd. We normally play to a very attentive and appreciative
small
crowd, so the energy of a larger audience really helped.
Thanks to all of you new fans who took the time to tell us how much you enjoyed the music—I was blown away by the response we got after our set. It feels good to be loved, however briefly.
OK, now on the headliner. Slim's set was amazing—they are hands-down one of the best bands I've seen live, and this show was no exception. Not only is the music spectacular, but they put a very titillating, charismatic show—it's hard to tear your eyes away from the stage (particularly when Slim and Munly are touching each other, even chastely ;).
I've included some photos of the gig by the über talented photographer
Lars Kommienezuspadt,
who came to film SCAC but ended up taking tons of photos of us, too. It was a pleasure to meet you, Lars--and I love your art!
Afterwards I met Big Bad Bob Ferbrache himself, who seemed relaxed and happy after the show. Soon, he was telling me about his longtime band Blood Axis and some techniques he used to produce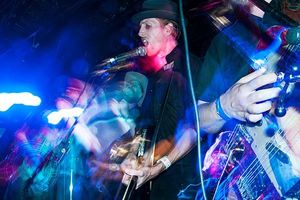 Tarantella
's album, Esqueletos. I really enjoyed meeting him, as I listen to—and admire—his work on a regular basis. Many of the bands he's worked with are in my regular rotation. I was only a wee bit disappointed that I didn't get to see him wearing his notorious tracksuit/fanny pack outfit.
Slim's band was quite nice to us and afterwards I got a chance to say hello to Jay Munly. The crowd was long gone and they were packing up, but I really wanted to buy some hard-to-come-by vinyl with the evening's pay.
Jay Munly
 is one of my favorite American songwriters/singers…although he is Canadian by birth.  I happen to like Canadians, so I won't hold that against him. His music is intoxicating—maybe it's the vivid, twisted storytelling, the ominous references to Biblical doom or the dramatic string arrangements. And lordy, Lord, that damned voice…
I chose Munly and the Lupercalians' Petr and the Wulf (2010) and if I hadn't left the record in my bandmate's car I would be listening to it right now.
You can preview Petr and the Wulf here
.
Nerves and some mistakes aside, it was a great night—one of the highlights of my rather short musical career thus far.
And as a band, it was our final show in Minneapolis…for the time being.
In September I'll be packing my boxes and moving to Austin. After flirting heavily with the city for 5 years, it's time to jump the broom. I've got an arsenal of new songs and I'm stocked up on environmentally-questionable hair spray.
See y'all soon.
-Jezebel