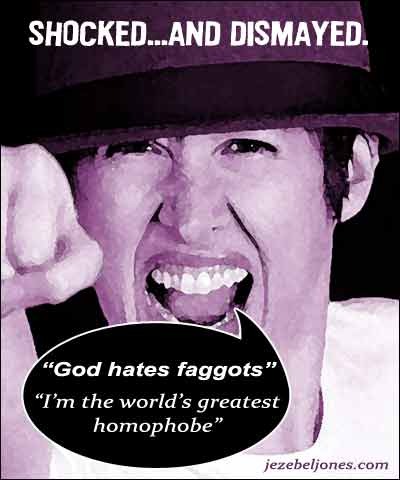 A very healthy dialog took place in San Francisco last weekend. A Concert-Conversation of press-worthy proportions.
When rebel folk singer Michelle Shocked started slinging some anti-gay rhetoric during her second set, the audience responded, first by talking back, then leaving. Finally the club owner (who is gay) apologized to the dwindling crowd and shut down the show.
I'll admit, I don't know Michelle's music that well. On a whim, I picked up
Short, Sharp, Shocked
(1988) on vinyl last year. I'd heard of Shocked and loved the cover and for $4 I took a chance. The album showcases her beautiful stories and voice. The album is classic; equal parts folk, blues and country, it stands the test of time. It also has a strong conscience. A great example is the song 'Graffiti Limbo' (
watch the video
), which talks about the unjust death of graffiti artist Michael Stewart, who was killed by NYC police in 1983.
After I bought the record, I found out the cover was not staged; it was run on the front page of the San Francisco Examiner during the Democratic National Convention. Shocked and others were protesting the practice of U.S. corporations giving money to both major parties (i.e. hedging their bets) during political elections.
I admire female musicians like Shocked who are feisty, willing to stir up some trouble and even break the law when it is warranted. Recently she was arrested again as part of the Occupy movement. Both on and off stage, Shocked has been known as an artist who cares passionately about social justice issues.
However, Shocked's anti-gay ranting over the weekend was nothing more than the canned cream-corn rhetoric of the evangelical Christian movement. No more, no less, word for word. Has her passion for social justice been hijacked by the religious right? Has she been brainwashed by the blood of the lamb?
As a former Evangelical, Pentecostal Christian I know the game plan. I was raised to execute the game plan. You may already know, but in case you don't, let me tell you what it is, in a flying nutshell from 50 feet:
The world must conform to our idea of God. If it does not, it is evil and must be destroyed.

I'm dead serious about this. In my roughly 20 years in the Pentecostal church, this is my testimony, and it's based on observation and first hand experience.
Evangelical Christianity is an abusive boyfriend. When he's sober he'll just hit you up for some money, but when he's drunk he'll just hit you. Oh, but he's so good at sweet-talking. He'll make you think it's all your fault and shame you into submission. Don't question him, it makes him angry. Obey, obey, obey. Soon his thoughts and your thoughts and his words start coming out your mouth. Submission is vital to this sect of Christianity, and they preach about it all the time. A person who dares rebel against the church authority or question the leadership is called a 'Jezebel'.
The Cult of Christianity can embrace you lovingly, but it has an equally abusive, hateful side. If you're familiar with my music, you'll probably recognize these themes in many of the songs from 'Queen of the Devil's Rodeo' (
download it free
).
Given your pain, you needed someone to blame
Born into nothing more lethal than shame
So you supplied all the cobwebs and lies
To be re-born is to be—certainly—hypnotized

                      –Intro to 'The Prisoner' by Jezebel Jones
Until Michelle Shocked converted to the born-again ideology in the late 90's, she had always maintained that her sexual orientation could not be defined as either gay or straight. But she did clearly identify with the label "lesbian". In 1990 she told a Chicago newspaper, "I resent like hell that I was maybe 18 years old before I even heard the 'L' word. I mean, that's understood, growing up sheltered in a Mormon environment. But it would have made all the difference for me had I grown up knowing that the reason I didn't fit in, was because they hadn't told me there were more categories to fit into".
Her audience—which includes lots of gay folks—was understandably upset at her hateful speech and slurs towards homosexuals last weekend. Artists should be held accountable for their statements on stage and it's ok—and even necessary—to have fans do just that. Especially if they feel you're not being truthful with them. And I don't believe she is being truthful. She's denying who she has been all along; a bi-sexual woman with anarchist tendencies. Unfortunately, her religion does not support who she is. Better to keep on the good side of the Cult of Christianity.
I've read variations on the same response to the backlash in the media…"liberals—they're fine with everyone having their own opinion as long as it agrees with theirs". Such a sad, tired argument. Yes, Shocked had every right to say what she said and the audience let her know they didn't like it one bit. Sounds like a healthy dialogue to me.
I hope she will find her own voice again and stop parroting this type of hateful speech. Jesus never said a word against homosexuals; Shocked would do much better to emulate Christ and preach radical love, not recycled hate.
Update:
Michelle Shocked's
two-part statement
is shamelessly untruthful, saying she was repeating the beliefs of other Christians: "If I could repeat the evening, I would make a clearer distinction between a set of beliefs I abhor, and my human sympathy for the folks who hold them". But if you listen to the audio of the show (comments start at 4:46) she clearly states that she shares in their opinions and says "Once Prop 8 gets uh...repealed and once preachers are held at gunpoint and forced to marry the homoSEXuals, I'm pretty sure that that'll be the signal for Jesus to come on back". She then goes on to say "This is one woman's opinion and it's fun, a lot of fun" and "If someone would be so gracious as to please tweet out 'Michelle Shocked just said from stage God hates faggots' ". OK, yes, the latter comment was probably meant to be sardonic, but in light of her earlier statements, it had the ring of (shocking) truth.