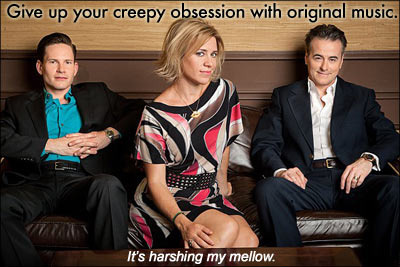 Elana James is now officially my least favorite musician in Austin. 
Why is this Hot Club of Cowtown fiddle player trashing original roots music? Could it be because she's pimping another album of STANDARDS? Oh, Lordy! I just love a juicy mystery…
Here's the quote from
her interview with Kansas City weekly The Pitch
that got my attention today.
"I think this creepy obsession with new, new, new, personal 'I wrote it' stuff is a kind of plague on American traditional music...what's wrong with reinterpreting traditional melodies or, in our case, standards and traditional songs from the early part of the 20th century, in an absolutely current, sincere and thrilling way?"
Maybe I'm interpreting this quote incorrectly—I'm not sure how else to take this—but let's discuss. Writing or liking original music is a "creepy obsession"? Songwriting from personal experience is a kind of plague?
OK, well, sometimes that's true. Especially if you wrote part of one album back in 2007 that was panned by some critics including the Amazon editor who reviewed the record, saying…
"On her solo debut, Elana James continues to impress as an instrumentalist, though her original material is pretty slight and her voice lacks range". (
read full review
)
He nails it. Albeit very, very politely.
After listening to some of her original songs today, I'm convinced she shouldn't criticize ANY songwriters. Or singers. The lyrics to the original songs on her album are pretty boring stuff and her voice ranges from vaguely annoying to unpleasant. The record does feature some great instrumental work, though, and James is a very good fiddle player. She's earned the right to criticize fiddle parts & playing with impunity. 
Now, there's absolutely nothing "wrong" with reinterpreting standards (way to go on the defense, though). We have a treasury of songs that are being preserved because musicians are playing them for new audiences. And bands like Hot Club of Cowtown are doing just that; it's very important. But did they reinterpret them in an "absolutely current" and "thrilling" way? Hello, Spin City!
Yes, interpreting standards are important, but I would argue that writing new American classics are just as important, if not more so. Ya know, that "new, new, new personal 'I wrote it' stuff" James so eloquently described. Original songwriting is already extremely undervalued by our society. We certainly don't need musicians telling us to value it even less in the press.
And in general, it's a hell of a lot harder to write a new song than to arrange a classic.
So how 'bout a little respect for those who do write original Americana? You might be covering their "traditional song" in 20 or 30 years.
-Jezebel
P.S. You can hear Hot Club of Cowtown's new album Rendezvous in Rhythm
here
.