Just came across some photos of me on Facebook from a photo shoot I did with Courtney Conk in Minneapolis. I modeled for her "Experiments in Madness" series…these were filmed in the attic of a (haunted?) Victorian home in South Minneapolis.
Funny, looking at it again yesterday reminded me of a date I went on in Austin a few years ago…it was the photo prop (I'm sitting on) that jogged my memory.
"Jason" seemed like a nice guy—we had a fine dinner and conversation. Talked music and social justice and he seemed like he could be fun, despite his nervousness. Afterwards he invited me to his apartment for a toke and a beer. Why not (I thought)? He didn't seem dangerous. In retrospect, perhaps that was the problem all along.
We walked in to his one-room studio off South Congress.
I glanced around quickly…and that's when I noticed it.
It was in the corner. It was small in stature, but it gave me the evil eye.
It gave me the willies, staring me down like that. I thought maybe I had had too much to drink. I blinked. Once. Twice. It was still there, lurking like a tragic omen, telling me to run, run, RUN!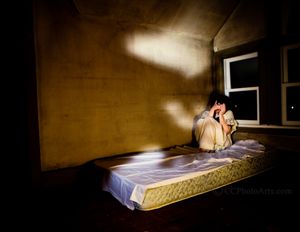 But his bed—that sorry little TWIN BED in the corner—sat there like a stern nun at midnight mass. I'm not clairvoyant but it spoke to me just the same.
I tried to retain focus as we shared a joint. Jason kissed me—poorly—but maybe it was me. Making out was the last thing on my mind, replaced by an army of rapid-fire questions…
Did his ex take his real bed? Did she take his dog, too? How does a man over age 30 sleep in one of those things? How does a woman sleep with a man who sleeps in one of those things? Are there plastic sheets? Is this indicative of…um…size? Why I am here again? Can I start laughing now? No? How 'bout now?
After a little more sloppy kissing (fail!), I extracted myself kinda-sorta graciously.
I've long forgotten Captain Twinbed's name, but his legend lives on…and now that I made the connection, I'll always have the photos to remind me.
-Jezebel
P.S. Courtney owns Twin Cities-based CC Photo Arts was also the photographer for my album & 7inch cover art. She's awesome to work with and gives musicians a discounted rate. CC, you rock!!