Love and Loss in 2018

Like most of us, 2018 dealt some hope but also a lot of pain. For me it was the loss of a very kind friend named Kelli Archer, from Austin, Texas.  She stuck her neck out for me more than once and supported hundreds of musicians through the shows she produced outside her former vintage store, Roadhouse Rags.  I wrote a tribute song in Kelli's honor; you can check out a quick DIY live video of the song "The Last Austin Cowgirl" below.
This fall I also lost the lease to my apartment in Minneapolis unexpectedly. Since I didn't have a day job lined up, my dog Banjo and I traveled between Nashville and Minneapolis, bouncing from Airbnbs to artist cabins to hotels to friend's houses . Between September and November we stayed in 15 different places (!!!!), trying to find full time housing…without a job it was no easy task.  It was off-the-charts stressful and a bit depressing, but a few good friends came to the rescue during this time. Thank you, GOOD FRIENDS!  I love you and you mean the world to me. 
Release of Deathfolk Magic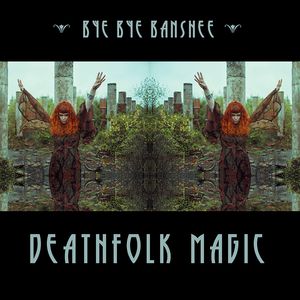 In the midst of all this housing chaos, I finally released the first EP for my side project Bye Bye Banshee. 'Deathfolk Magic' came out on October 5, 2018.   At its heart, Bye Bye Banshee is new-age-meets-old-world-funeral music.   I've been researching and writing music based around death culture and mythology for about six years…and we captured four folklore-inspired tunes on this initial recording. The EP was expertly co-produced by Jeff Crandall (Swallows, J.Briozo) and it was recorded/mixed/mastered by audio guru Tom Garneau (Prince, Sting).  I also had an amazing band backing me up on this production, including Chris and JT Bates, Aaron Kerr and Brett Hansen.
'Deathfolk Magic' has garnered some nice reviews so far. Here are a few quotes...

"She inhabits every line of the song with unique ferocity and demonstrates all-encompassing vocal control with her ability to vary her voice from hushed respect to muscular, elongated lines seemingly dredged up from fiery depths of her heart...Jezebel Jones has written and recorded an EP release no one else could have..." - No Depression

"The music is jazzy, dark, mystical and I thought it would work perfectly in the first season of True Detective...That being said the vocals are the star of the show. Jones is dynamic, sleek and mysterious when she sings..." - Divide and Conquer

"The whole thing sounds like a New Orleans jam designed to raise the dead, a shamanic ritual and soundtrack in a ballroom beyond time. But for all its bleak subject matter the music is gorgeous in its understatement...and beautifully soothing." - Dancing About Architecture

You can read more about the project, see the reviews and listen to/download the music here. 
I've Moved Again...this time to Nashville
In December I signed a lease just outside Nashville.  I won't say exactly where but it's very close to the cabin where my hero—songwriter Townes Van Zandt—died. For a nerdy nomadic introvert like myself it's helpful to be in a friendly city where people actually look you in the eyes, smile and even say hello. It's very easy to meet people here…and those little southern charms warm my chilly northern heart. But I won't lie, it's the music and the mild winters that makes me most excited to be here. I like walking my dog in the January rain, grass still lush and green.  I've seen some amazing music here and will start playing live shows again soon.

To keep in touch, be sure to sign up for my NEW AND IMPROVED monthly newsletter, which will kick off in February 2018. New music, videos, poetry, illustrations and more!!!