Well. Hello Again.
I've been here in Austin for about a week…a little tired, a lot worn out from my move from Minneapolis. I'm also exceptionally hungover right now. It's been two days—oh, wait, three days—since the now infamous South Austin Whiskey and Wine Debacle of 2012 and I'm still hurting. Ugh.
After two days in bed, I did get restless so I got out the ol' Hangover Cam to do an
impromptu live video for my new tune, Whiskey Dialing
.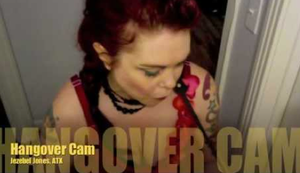 For those of you folks who hate my rambling (but charming) introductions with all its umms and ahhhs and awkward pauses and futile attempts to stop the video (at the end, a little embarrassing), I've also created a very
boring video with just the song
. 
I'm sure you truly hate drinking songs so just forget I mentioned it at all. And please, please don't share the video. I really hate it when our friends and fans show appreciation in that kind of manner. No, no, no!
The trip from Minnesota to Texas took a bit longer than usual, mainly due to driver exhaustion. And lunacy. More on that later, and yes, it did involve a cabbie.
After the movers left my house in Minneapolis late afternoon, I packed the last of my car and hit the road with two elated rat terriers, assorted households (teapot! unsweet tea! Too many shoes!), clothing, assorted leftover liquor and the uke. We spent our first night in a Des Moines highway hotel with an excellent BLT (mmmm, bacon) and deadly snake shows on Animal Planet. Note: spitting baby albino cobras shouldn't be that adorable.
The second day I got a late start and the second night I did the usual stop in Kansas City, MO. Lucky for me, it happened to coincide with a unique art show/concert—
Manifest Destiny
—created by local sculptor Renée Cinderhouse.
First, I should probably tell you that I nearly didn't make the show.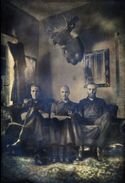 Actually, I nearly strangled the cab driver who refused to use GPS and got lost on the way to the gallery (exactly one mile from my hotel) then proceeded to charge me for the time/miles. In my defense, I've had a very disproportionate number of heinous (and sometimes felonious) cab experiences.
But as luck would have it—for the cabbie, at least—there was a witness standing outside the gallery. This turned out to be the photographer
Gary Isaacs
, who was quite charming. I met him later, after the show when he kindly asked to photograph my half-sleeve. I was already familiar with his work as he provides much of the haunting, old-world looking imagery for Slim Cessna's Auto Club, DeVotchKa, Wovenhand, etc.
OK, back to the cabbie. Instead of following my murderous impulses, I demand my full change (he gave himself a good tip after all that, oh yes he did!). I'm not quite sure where to properly dispose of a body and a cab in Kansas City and anyway it's very hard to do so in evening attire. I step inside the gallery.
It was closing weekend for the art show and Renée had brought in
Denver Broncos UK
, another Jay Munly project with some of the usual (and versatile) musical suspects: Slim Cessna, Lord Dwight Pentacost and cellist Rebecca Vera.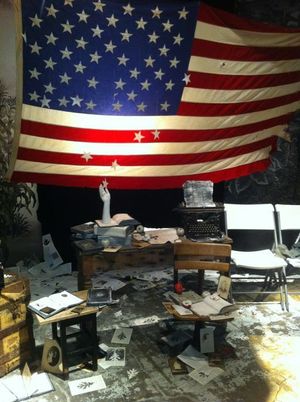 The concept of Manifest Destiny was a live, interactive pop-up book that merges the audience with the musicians and the visual pieces. I liked the combination of found/antique objects that reflect American history (and ghosts!) and her handmade sculpture that tie in the present, maybe even foretell a bit of the future.
Denver Broncos UK played in a semi-circle amidst the art and I thought it was a gorgeous pairing of eye and ear. I'm glad I got to experience it…definitely the best part of this tiring and tiresome trip.
The next day I whiteknuckled through steel sheets of rain and decided to stay overnight in Denton, TX. Thank sweet baby Jesus and his mama Mary we ended this harrowing day with the coolest, most understanding and intelligent hotel clerk at the _______Inn on 1-35. Oh wait, I spoke too soon…desk clerk is clearly a FUCKING MORON or a STONECOLD ASSHOLE. I'm still very unclear about which, and whether or not those descriptions are mutually exclusive. Clearly, they may not be. Clearly.
After several challenging exchanges with the aforementioned moron and/or asshole hotel clerk I settled for a loaded bat (the peaceful kind), a Dominoes pizza (only place that delivers in Denton? Really???!) and watching snakes (yes, again) on Animal Planet. During the show I google 'venomous snakes in Austin'. Shite. I sleep lightly and dream of baby cobras.
We roll into Austin the next day. Me in my rumpled 3-day travel dress and crabby demeanor. Weary and wary anticipation. Four dog ears at full alert. People and animal noses full of foreign smells. Despite the fact that I still don't have a fridge and have yet to unpack more than a few boxes, we're settling in to our charming-but-a-little-rough-around-the-edges-place on the South side of town. It's already strangely familiar. Already feels like home.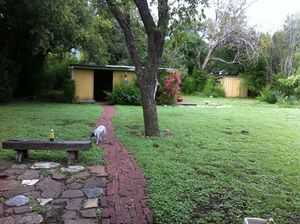 The house itself may look like an unholy/unnatural/unkempt disaster, but we've been spending lots of time in our new backyard. I like being able to play and write music outdoors—having this beautiful space to myself, even better. Soon I'll have to get a straight job to support my music addictions. But not just yet.
Look around. Bamboo plants…honeysuckle bushes, clusters of friendly bees…a monstrous agave plant, one ancient lawn gnome, assorted rusty yard junk (so very Austin). A custom metal and stone chiminea that shoots sparks to the heavens, left by my sculptor landlord. Flocks of tiny but ruthless mosquitoes, ready for a hearty Midwestern-style bloodletting. Mine.
At night I spy the first firefly I've seen in many, many years. I admire his solitary light. While his flickering path seems random, I know it is not.
And so far, no snakes in sight.