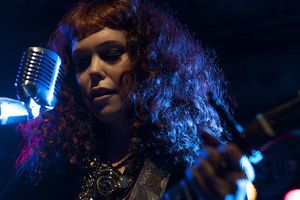 Jezebel Jones is a musician and artist who was born in Seattle and raised in the woods of rural Minnesota. She grew up singing in her small town Pentecostal church and eventually left the faith and discovered her own path to redemption through art. In 2011, Jezebel released her first album, Queen of the Devil's Rodeo, which received some very nice reviews. 
Jezebel's side project, Bye Bye Banshee, is a musical exploration of death and grieving from a feminine perspective. Inspired by magic, myth and folklore, Bye Bye Banshee's debut EP--Deathfolk Magic--was released October 5, 2018.

She currently resides in Minneapolis.