Press inquiries: jezebel@jezebeljones.com
---
Reviews & Interviews
Citypages.com, Interview by Dave Hoenack, July 2012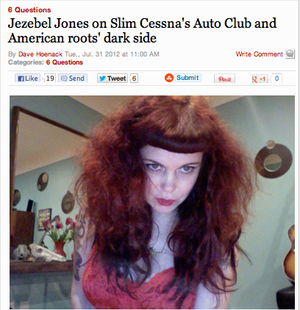 If Americana is the new punk rock, Slim Cessna is its Iggy Pop. He not only serves as a dark ole granddaddy but defies our desire to file music into mothballed subgenres like gothic country or punkabilly. Fans often describe a Slim Cessna's Auto Club show as a religious experience -- yet even with eight albums spanning nearly two decades they are relatively unknown.

The band is a paradox -- known for dark imagery, yet fun as hell. Just as they've outgrown genre they're an active reminder that all great American music springs from the same soil -- country, blues, the music of Saturday night and of Sunday morning, it's all a singular enduring tradition. And Cessna takes the stage at 7th St. Entry tonight.

City Pages talked to tonight's opener, Minneapolis' own queen of gothic country, Jezebel Jones about Slim Cessna's Auto Club, her own music and the fiery apocalypse that awaits us all.

City Pages: Did you see Slim Cessna's Auto Club at Lee's in 2010 or at the Turf Club in 2009?

Jezebel Jones: I finally saw them -- twice actually -- at SXSW in 2011. I was a fan before that but seeing them play is a trip. I felt like I was back in the Pentecostal Church, only this time the music was much better and I could drink whiskey and have dirty thoughts and not feel guilty about any of it.     Read Full Article>
 
Alt-Country.NL, January 2012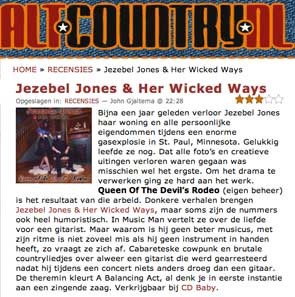 "A year ago, Jezebel Jones lost her home and all her personal belongings in a massive gas explosion in St. Paul, Minnesota; fortunately she lived. The hardest part was losing her creative work, photographs and other personal belongings. In order to process the tragedy, she went to work; Queen Of The Devil's Rodeo (self-released) is the result.

Jezebel Jones & Her Wicked Ways tell some dark tales, but at times the songs are quite humorous. "Music Man" tells about the love of a guitarist, but Jones wonders why he isn't a better musician since his rhythm is fine when he doesn't have an instrument in his hands.

Part cabaret cowpunk and part cheeky country, the album also has a song about another guitarist who is arrested after a concert, wearing nothing more than a guitar. The theremin colors "A Balancing Act", though you may initially think it's a musical saw."

- John Gjaltema, Alt-Country.NL (translated from Dutch)

 
Mpls. St. Paul Magazine, January 2012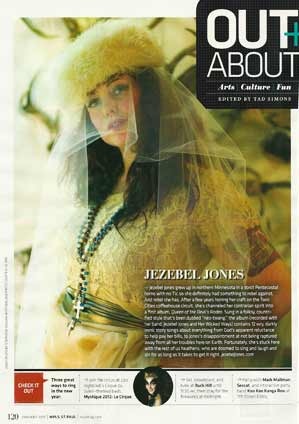 "Jezebel Jones grew up in northern Minnesota in a strict Pentecostal home with no TV, so she definitely had something to rebel against.  And rebel she has. After a few years honing her craft on the Twin Cities coffeehouse circuit, she's channeled her contrarian spirit into a first album, Queen of the Devil's Rodeo. Sung in a folksy, countrified style that's been dubbed "neo-twang", the album (recorded with her band Jezebel Jones & Her Wicked Ways) contains 12 wry, darkly ironic story songs about everything from God's apparent reluctance to help pay her bills, to Jones's disappointment at not being raptured away from all her troubles on Earth.  Fortunately, she's stuck here with the rest of us heathens, who are doomed to sing and laugh and sin for as long as it takes to get it right."

-Tad Simons, Entertainment Editor, Mpls. St. Paul Magazine



 
Music News Nashville, November 2011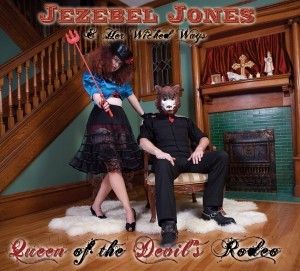 "Growing up in Minnesota, Jezebel Jones was influenced by her surroundings which included a lot of straight-laced Pentecostal preaching and people watching. And, you know what they say about a good girl gone bad! Maybe that's the reason why her disc is so fun to listen to. There are quite a few stories here about people who have, well, fallen from grace. Her art as a storyteller comes across on the very first song, "Music Man," which has kind of a stage show feel to it that really lends itself well to Jones's style.

That style is all over the place. She's humorous (I think!) on "Post-Rapture Blues," soft-spoken on "Baptism At Sweet William's Lake," and downright sensual on "Sirens Of The Mississippi," which might very well be the best cut on here.

The whole album is hard to classify, which might be why she has become a favorite at Americana radio. It's not for people who like their music straight and arrow, but if you like to cross over the lines every now and then, I have a feeling that Jones could take you on a ride that you won't soon forget!"

-Chuck Dauphin, MusicNewsNashville.com
 
Rootstime.be, September 2012

"Toch is haar muziek eerder onschuldig en vooral onder de noemers 'country' en 'Americana' te klasseren. We houden wel van heel wat van de zelfgecomponeerde nummers die Jezebel Jones op deze plaat brengt. De inspiratie voor enkele liedjes op deze cd vond Jezebel Jones in haar leven als tiener, waar ze worstelde met dingen als geloof en enkele misgelopen liefdesrelaties.
In de autobiografische titeltrack "Queen Of The Devil's Rodeo" (zie video) zitten zo heel wat verwijzingen naar religie en de hypocrisie van de clerus. Leuke liedjes uit deze eerste plaat van Jezebel Jones zijn opener "Music Man", de door mandoline en ukelele gedomineerde countryballad "Baptism At Sweet Williams Lake", de akoestisch gebrachte liedjes "Juanita" en "Debtor's Prayer" en het wat mysterieuze "Sirens Of The Mississippi".
Er zit daarenboven een behoorlijke portie originaliteit in liedjes als het cynisch bedoelde "Post-Rapture Blues", countryrocker "Gary Got Arrested" met Joe Savage op pedal steel en Thomas Maddox op banjo en het waarschijnlijk grappig bedoelde "Hollywood Zombies".
'Jezebel Jones & Her Wicked Ways' is amper twee jaar oud en heeft met het album "Queen Of The Devil's Rodeo" een wat moeilijk te categoriseren plaat op de markt gebracht. Allicht zal de toekomst uitwijzen in welke muzikale richting we deze dame later zullen mogen terughoren. Dat we nog van haar zullen horen, staat echter nu al als een paal boven water, want dit toch wel een knap debuut!"
- Freddy Celis, Rootstime.be

Sepiachord, August 2013

"Jezebel Jones (with Her Wicked Ways) plays straight up country. Sure there's elements of blues and what not here, but real country music has always had that. The only reason we have to temper country in this case with terms like "alternative" or "underground" or "insurgent" or whatever is because mainstream country is so hopelessly bland and fucked.
Anyway, Jezebel has the perfect voice for these tunes, strong yet accessible. You should both wantto sing along and be able to sing along with roots music. Mission accomplished on Queen of the Rodeo.
What puts this set of tunes hats & horns above other country discs I've heard recently is the fun, sexy, almost coquettish vibe that infuses many of Jones' songs. Sure there's darkness here (as goes with the territory), especially as the record waxes on. But the playfulness that is here gives Queen of the Rodeo a burlesque soul that's hard to beat.
Very nice, overall".
-Jordan Block, Sepidchord