Or…Spring Hath No Fury like a Pair of Lovesick 10 Year-old Girls
Every year on May Day I think of Stephanie. I think of our Great May Day Caper—so long ago—and wish her well. I know for a fact she's back in my hometown, thinking of me today, too, remembering our conspiracy. Laughter and mischief and boys aside, there are certain experiences that bond girlfriends for life.

It had been nearly three years since I started attending St. Michael's Catholic school. After a long, cold winter in Northern Minnesota, it was the morning of May 1 and Mrs. Clarke's 4th grade class could barely able to sit still to recite their times tables; it was a beautiful spring day and we were oh so squirrely, full of energy and mischief.

That afternoon, the entire school would gather together on the lawn for the annual May Pole ceremony, a tradition at St. Michael's. After a couple of classes, the rest of the morning was spent making paper May Day baskets for our classmates, teachers and of course, our would-be boyfriends/girlfriends.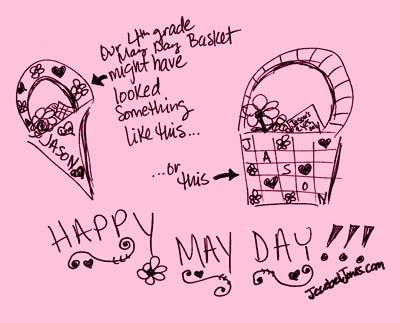 I'm not sure how or when the plan hatched, exactly. My BF2 at the time—Stephanie K. —and I were both madly in love with an older boy: one husky hockey player of Scandinavian descent, 6th grader Jason Schume. Jason, Jason, Jason. We talked about him all the time. We wrote his name + our name in notebooks. We spent many hours discussing Jason's finer points…his white blond hair (god-like!), how handsome he looked in his hockey uniform (hockey players were studs) and what it would be like to kiss him (omg, heaven, for sure!).

Now Steph and I just knew one of us had a shot. After all, we were pretty cool for our almost-11 years; despite our thicker-than-was-fashionable glasses (specifically) and awkward looks (generally), we thought we were pretty hot stuff. Finally, here was a chance to express our deep, everlasting love.

Working together, we made a special May Day basket for Jason out of green construction paper; naturally it was covered top to bottom with crayola-ed hearts and flowers. We filled it with candy, and included a love note praising all Jason's "totally awesome" qualities and littered with "I love you!!!"s and many more hearts. We didn't sign it, thinking he'd know for sure. It's not easy keeping a secret like that in a small town, let alone a small Catholic school.

Still, we did our best.

With bouts of stifled girl giggles, we tip toed upstairs, then hesitated in front of the 6th grade door. Here it was: our moment to let Jason know how we both felt. Should we do it? What would he do? Finally, we put the basket outside the door, knocked loudly then ran like the Devil! We knew everyone would be talking about our love-fueled act by the end of the day, and we braced ourselves for the inevitable fallout and shame.

By the afternoon all-school May Pole session, word had spread; it was the talk of the school. Rumor had it some girl had left a very "lovey-dovey" May Day basket for Jason. The whole 6th grade had read the note (before he did, not in the plan!) and was teasing him mercilessly about his anonymous admirer, speculating who it might be.
At the end of the day—after the final bell—all us Catholic kids took the bus to the public high school, transferring to our respective routes. We climbed aboard the school bus, and there He was in all His glory. Jason sitting in the back of the bus. Steph and I scrunched ourselves down in a seat quickly to avoid any accusations about this May Day mystery.

Just then, Anne Charlotte got on the bus. Anne was our nemesis. The Queen bee of the 4th grade, she was as cool as she was cruel. An upwardly-mobile pre-pubescent in expensive designer jeans, Anne could—and would—banish you from the girl pack in a Minnesota minute, if provoked. She was popular, poised and all the adults fawned on her. The sun seemed to always shine on her, no matter what.

But that May 1, the sun did not shine on Anne Charlotte. In fact, an ominous-looking nimbus cloud was gathering overhead.

As soon as she took a seat, the bus started buzzing… and the 6th graders began to accuse Anne of being Jason's would-be May Day sweetheart. Naturally, she denied the crime. And naturally, the more she denied it, the less people believed her and the worse the teasing got. More kids got in on the act. By the time the bus pulled out, tears were streaming down her cheeks and she was sobbing in protest. "It was NOT ME!"

And no one believed her. Well, almost no one.

No one except two exceptionally silly, love-struck girls, whispering and giggling in a green vinyl bus seat. Vowing to keep this Great May Day Caper a secret.

And we did.

Happy May Day, Steph—our secret's out. This one's for you.

Happy May Day , y'all!

XOXO,

Jezebel