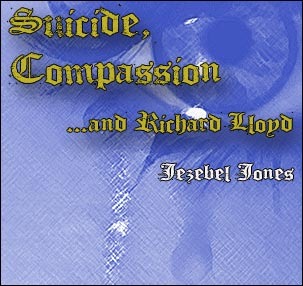 An acquaintance just posted a note about his recent conversation with guitarist/former Television band member 
Richard Lloyd
on Facebook and it so disturbed me that I had to turn to the pen, so to speak. Below is the post in its entirety (minus the discussion thread that ensued).
"I was driving Richard Lloyd and he shared his thoughts on suicide. Suicides, he said, should be forgotten, their names expunged, because they are foremost murderers, and murder should not bring glory to its perpetrators.

At first, it didn't sit right with me, but after watching friends whose loved ones have killed themselves, both suddenly and slowly, by premeditated murder and by manslaughter, I have to acknowledge the fundamental violence of the act and deem it unforgivable as murder. To honor a victim of suicide is to place his murderer above the survivors.

If a man loses his fight with depression, he should hope to be scoffed at and forgotten and erased. No resting in peace for you, suicides. Decay in dishonor."
Wow.  This is one of the cruelest things I had read in long time.

First of all, suicide is not about YOU, friend. It's not about YOU, Richard Lloyd. It's about another person wanting to end their pain. Sometimes it's about depression and despair that so colors your world, you can't see clearly, whether it's in a moment of desperation (often aided by legal/illegal drug or alcohol), a product of chemical imbalance, combined with the means to commit the act. Sometimes it's about mental illness. Sometimes it is a rational decision, a considered response to physical pain or the dying process.



Yes, I've heard all the arguments and the finger-pointing. God, we just love to pass judgment and blame someone else for their faults and decisions. "Suicide is a selfish act". How very cliché. Well, most of our lives are lived selfishly. In America selfishness is our enthusiastic pasttime, our true national religion.

Isn't it selfish of us to condemn those who are suffering or blinded by pain, saying they should choose to live so that we won't suffer when they die?

Some of those same people who express anger after a suicide, could have—and maybe should have—intervened earlier. Some of these folks feel a sense of outrage and betrayal after a suicide because it makes them feel guilty and regetful about their own actions or inaction. Religion often heaps on more judgement and cruelty, condemning a person to hell for this act, dictating that they cannot be buried with their congregation.

BUT many times there simply wasn't a way to prevent the act. Anyone who has dealt with depression, especially serious depression over a lifetime, may turn to suicide regardless of strong family and friend ties. That person may be loved, but still find themselves wanting to end their own life. It's natural to ask "what more could I have done?" after the fact. But many times there truly wasn't anything you could do to prevent it; ultimately they chose to end their pain in the only way they knew how.

I personally had an experience when I was going off anti-depression medication many years ago. Even though I tapered off it gradually as the doctor recommended, it triggered suicidal thoughts to the degree that if I had had the ready means on that evening, I may have decided to end it all. Luckily that terrible evening passed, but thoughts of death and dying are not uncommon for me. They are not uncommon for many of us, particularly artists and musicians.  But fortunately, since I rediscovered music a few years back, neither are thoughts of life, love and joy.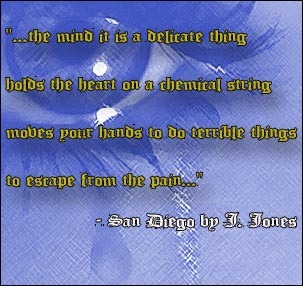 I'm advocating for compassion on all sides of the issue. Compassion for the person who commits suicide, compassion for the friends and family and most of all compassion for one's self. You can never walk in another person's shoes, not really. We can only try to understand and extend as much love as our hearts will allow.

Several years ago, a family friend ended his own life. J. was a sweet person—beautiful inside and out. I remember being quite shocked when I heard the news. He seemed so even-keeled, so zen. He was a student of Buddhism; I believe he was studying to become a priest at the time of his death. But a moment of drug-enhanced despair and the means to do it (a gun he kept in a safe for protection) led to a tragic end.

I've written
a new song about this very subject,
inspired by my brother's good friend. Here is semi-produced demo of the song (flaws and all), which I decided to share with you today of this post. We've only performed it live a few times and it will be on my next album. It's called San Diego; I dedicate it to J. and all folks who have been affected by this issue.

For those who are tormented by guilt and regret over the suicide of a loved one, please try to extend compassion to your loved one and most importantly, yourself. To those who are tormented by thoughts of suicide, please try (and keep trying and trying) to reach out to others. If you don't have that support network, there are compassionate strangers who want to help you.
Call a support line
, say something on Facebook, talk to a teacher, doctor, or counselor. People do understand, care and want to help.

There are no easy answers to a subject this complex and fraught with emotion. Can we open our hearts to forgive and understand? Can we demonstrate compassion and reach out to those who are hurting? 

In love & compassion,

Jezebel

(originally posted Nov. 2012, revised Sept 2013)