Dear Readers,

The other day I received some mail that I thought you might find interesting. My response follows...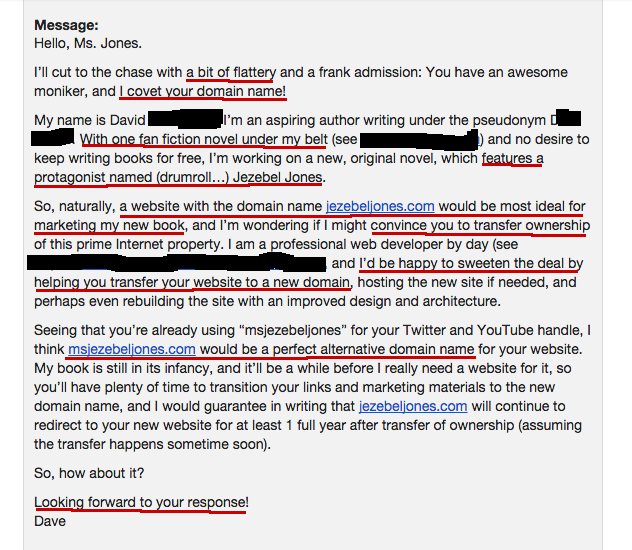 Dear Dave-
 
Thanks so very much for your thoughtful and—dare I say—highly

imaginative

letter, but especially for your flatterous words.  
 
A musician always loves people who will take the time to kiss ass a little, but preferably a LOT. We music-types have huge EGOs, imho!  Usually that "flattery" takes slightly different forms, though, like praising my original music or comparing me to artists I dig, such as Nick Cave, Billie Holiday or the great Barry Manilow. Sometimes people just compliment me on my quality footwear. But saying you covet my domain name—

JezebelJones.com

—is almost just as good.
 
As a fellow arteest, I'm sure you can understand the importance of a owning the same dot com name as your already-established stage/band name. In fact, it may be slightly more important than owning the dot com name of a character in a yet-to-be-completed first novel.
 
Although I didn't read your fan-fiction—primarily because I'm not a fan-fiction fan, but also because I hate to read—I'm sure your upcoming novel will be equal parts moody and dangerously brilliant, and sell like DC crack til you finally make the New York Times Best Seller List.  If a talentless hack like E.L. James (also a fan-fiction writer!) can manage to write a best seller, literally anyone can.
 
I understand why you feel marketing your upcoming first novel/runaway debut bestseller is more important than my relatively trivial musical endeavors. As you so politely did NOT point out, soon you'll be outselling Stephen King while I'm opening up for some puppet show at a theme park in California. So really…what's the point in me even keeping
JezebelJones.com
?
 
That's a tough question to answer. I guess while you've been riffing on JK Rowling's ideas, I've been working on writing unique, "riff-free" music, getting the word out about it and building a community of friends and supporters.  I'm sure you can understand why it's at least marginally important for me to keep using
JezebelJones.com
.

Also, my Turkish fans might be really pissed if you took over the domain.  I really, really don't want to let them down. They're very nice. And they've been through enough lately, don't you think?
 
That said, I'm not entirely unreceptive to selling the domain name for the right price. Turkey will understand…eventually.

Since you didn't mention money at all, I assume that money is no object. I get it. That's cool. I know several trust fund kids, and they're only mean drunks when they're drinking. But considering the time, money, passion and pain it has cost me these past several years to write/produce music, build a fan base and promote my site—not to mention the continued long-tail value over the next several decades…
 
In short, I would be willing to sell the
JezebelJones.com
domain name for...(drum-roll, please)... 



$1,000,000 US.



It feels like the right amount for this "prime Internet property", as you call it. Funds would need to be verified beforehand, naturally.   But I think we really "get" each other, so maybe we could skip that part. However, I would feel much better if I could sign the transfer paperwork after your payment posts to the Swiss bank account I plan to open.
 
As far as the hosting, rebuilding and re-architecting of my website, I would prefer not to have a Drupal developer touch JezebelJones.com. Ever. Please never mention it again, as it is extremely upsetting to me for obvious reasons. "Unsweeten the deal", so to speak.
 
In summary, I prefer to keep
JezebelJones.com
.  But money talks. And bullshit does something else altogether, but that's not important here. I'm willing to part with the domain name if I can afford to quit my 9-5 job, pay off my debts and pursue my music full time.  We all have to make sacrifices, I guess.
 
At this point you're probably wondering what I'd do with the money from the sale of my domain name. Most likely, I would buy a tiny cottage in Ireland or lease a flat in Paris or Berlin where I could smoke gratuitous amounts of high-quality marijuana, write my next album and take up urban landscape painting. Maybe Barcelona would make more sense for all of that. Well, I'd better go brush up on my Spanish.
 
Looking forward to your kind response.  Adiós (aka, "goodbye").


-Jezebel Jones
P.S. To your point, no, I wasn't able to to secure "jezebeljones" as some of my social media handles, thus I go by "msjezebeljones" on
Twitter,
YouTube
and
Instagram
.   You said that msjezebeljones.com would be a "perfect alternative domain name" for my website.
I completely
agree
except I would replace the "alternative" with "additional", at least until you purchase my domain.  So I have additionally secured
msjezebeljones.com
in anticipation of that joyous event.
UPDATE 7/23/15:
Dave emailed me back.  This is what he had to say...
Thanks for the forthright and humorous response. If-ever I have $1,000,000 to spend on a domain name, I'll be sure to come back with a new and proper proposal!
Here's hoping both of us will someday be able to quit our 9-5 jobs and pursue our real work full time.
Dave
So, I guess Barcelona will have to wait. *sigh*. Someday.
-JJ