Oh, goodie! The High Times​ horoscope is out. Here's mine, with FULL COMMENTARY by yours truly

(ME)

.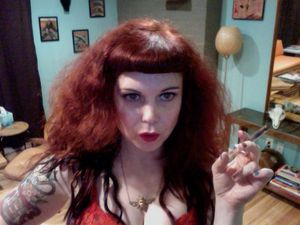 Capricorn - Squeezing Through the Cracks
(AKA SQUEEZING INTO MY PANTS, AS I HAVEN'T SHED MY TEXAS WEIGHT YET.)
In contemplating two attractive options, Capricorn, you might be able to create a superior third of your own.
(DUH.)
With a cluster of earth planets in your fellow earth sign, Virgo, you might be reconsidering certain choices, to accommodate your increasingly specific tastes.
(YES, I'M MOVING. AGAIN, GODDAMN IT.)
What used to work just doesn't seem to do the trick anymore
(MEN)
, but some new passion is around the corner.
(WOMEN?)
True satisfaction is at hand, settle for nothing less.
(MY PROBLEM, IN A NUTSHELL.) 
Indica: Berry White
(THX, DUDE.)
Disappointed that the rapture didn't happen...again?
Watch Post-Rapture Blues