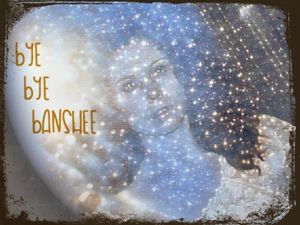 Well I've been back home in the cold arms of Mother Minnesota for about a year and when people ask what I've been up to I slightly sheepishly tell them about my latest music project, Bye Bye Banshee, which takes on the topic of death from a decidedly female perspective. I've been surprised to find a very welcome reception to the ideas I've been exploring through this project.

In the past several years I've done a lot of moving (Austin, San Antonio, Seattle, Minneapolis/St. Paul) and a lot of writing and drawing.  A lot of grieving. Very little performing.  

But still I've been bubbling over with creative energy, honing my song craft. And getting ready to hit the stage again...and my first UK show at the Death & the Maiden Conference is on the horizon.

My curious fear and fascination of death started when I was a small child. Blame my Catholic childhood. My Pentecostal puberty. My fear of hell. My natural inclination towards the dark and mysterious.

But I've come to look at death as a spectrum with many colors.  That's what Bye Bye Banshee is all about. The dark. The light. All the curious shades in between. I believe that the fear of death, that (often) unspoken dread, causing suffering and evil.  For me, writing this music is part of the cure.

In less than two weeks, I'll be back in the studio, this time recording the first EP for Bye Bye Banshee.  It's been a deeply spiritual experience and I've chosen people who I believe will take that soul approach to my project, including Twin Cities jazz composers Chris Bates (Red 5, Atlantis Quartet) and JT Bates (Andrew Bird,Trampled by Turtles) on upright bass and drums, Aaron Kerr (Swallows) on cello and my good friend Jeff Crandall (J.Briozo, Swallows) as co-producer. Minneapolis legend Tom Garneau will be recording and mixing.

I'll be posting some stuff from the studio soon.  But in the meantime, you can hear early, crude at-home recordings of some songs at the new Bye Bye Banshee site here. 
 
Yours in life and death, 
Jezebel

Update: you can now check out the music of Bye Bye Banshee here. The upcoming EP, Deathfolk Magic, will be released October 5, 2018.