Quick Bible Quiz:

name a time or place when Jesus judged or condemned a woman for ANYTHING.  

I grew up reading the Bible and not a single incident comes to mind.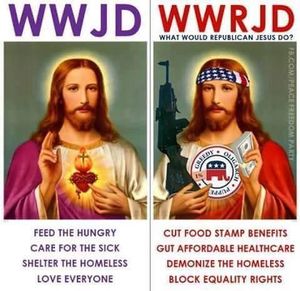 So, would Jesus stand outside an abortion clinic and harass or threaten or do violence to women? HELLLLLLLLNO. To those who claim they are "pro-life" for religious reasons ("Christian"), I encourage you to learn about--and follow--your own religion.  You know, the religion you claim is true and you seem to think everyone else should follow.

Jesus taught peace, love and empathy. But like the ruling classes of Europe before them, American Republicans and the so-called Christian Right have rebranded Jesus, bastardized him for their own gain. Someone's profiting from this rebranding effort, and it's not the poor, the sick or the homeless.

The Jesus evangelical Christians follow is a total asshole, pretty much the opposite of Jesus from the Bible. Jesus has been drastically rebranded from hero to villain. From olive-skinned peace-loving teacher to white, violently religious douchebag. 

In the scriptures, Jesus is an incredibly compassionate person, NOT one who denies basic human rights such as food, clothing and shelter to those who need it most.  NOT a god who withholds medicine to the sick, one who prefers to let people die to boost profits. (He did say "render unto Caesar what is Caesar's"--yes, the Jesus of the Bible told his followers to pay their taxes).  NOT one who loudly condemns women in public for so-called wrongdoing. NOT one who is in favor of humiliating or killing women for "justice".

Jesus was mostly pure love.

 But you know what made him really pissed him off?

 It wasn't women.  It was judgmental men--hypocrites. And men who made a profit off religion. Men who used religion for their own gains.

Sound familiar?

-JJ

P.S. Want to get your very own re-branded Jesus doll in time for Christmas?  Capitalism is the reason for the Season!