A True Story of Weed & Backwards Masking by Jezebel Jones
********************************************************************
Note: This is a repost of a piece I did to celebrate 4/20 a couple of years ago. I took it down temporarily because I was concerned about "random" testing at my day job in Texas.  Have I mentioned I'm happy to be living in Washington state with lots of other "devil worshippers"? ;)

********************************************************************
I like to think I smoke marijuana because Freddy Mercury told me to.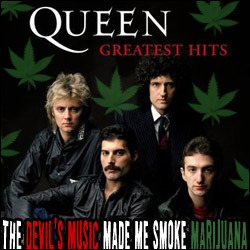 Back when I was a child, I'd spend weeks of my summer at some Pentecostal camp or another, usually with my family. When I was about 12 or 13, I was finally old enough to go to Teen Camp on my own, which meant less crafts, less supervision, more sophisticated pranks (quick-set cherry jello in the toilets) and longer church services with age-appropriate topics like the evils of drinking, pre-marital sex and masturbation. Hello, Jesus Camp!

That week was a several hour presentation by not-quite-famous Peters Brothers, a pair of slick sibling "saints" who traveled around the country peddling a titillating, anti-rock music multimedia presentation called 'The Truth About Rock'. Three glorious hours of demonic imagery & ungodly music mashed up with bouts of fiery preaching, followed by an offering and an altar call to repent of your music sins. It was profitable (tax-free!). Sexy and gory and riveting, OH MY!

Now, one of the topics covered in this anti-rock music extravaganza (you can watch an older 80's version on YouTube and laugh your ass off) was backmasking or backwards masking, which is a technique used to hide subliminal sounds/phrases in music. These messages are only understandable if you were to play that bit backwards, and the Peters Brothers provided convincing evidence of evail, Satanic messages within popular rock songs.

One of the audio clips they played was "Another One Bites the Dust" by Queen, which happened to be a favorite song as a child. By favorite song that I mean we roller skated to it in grade school. They and many other preachers were saying Queen communed with the Devil because the song has the message, "It's Fun to Smoke Marijuana" or "Decide to Smoke Marijuana" backmasked into the song. Hail Satan!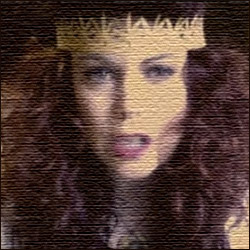 Fast forward many years later I'm living with my folks in Florida and waiting tables. If that doesn't drive you to all kinds of drugs, I don't know what will. Weed was readily available. I had given it the old "college try" in college but didn't get high that first time.

This time I was a bit older—maybe even wiser—and wanted to know what I was getting into. So I start doing research on marijuana on the internet—the effects, the different types, the history of use, the laws. And that's how I found out about medical marijuana and how it's helping so many people cope with various conditions (especially pain) with minimal if any side effects.

It was an eye-opening experience—marijuana was not the evil drug that we'd been warned about. In fact, it was much safer than many common over-the-counter & prescription drugs…and it seemed like it might be fun. So I decided to give it another try. The first time I got high was really amazing. With my mind relaxed, I chatted happily with my co-workers, forgetting my troubles for a few hours, with absolutely no hangover in the morning. And no regrets.

Several years later when I started writing and playing, marijuana was the ultimate Muse, the valve that opened the flow of creativity for me. Yes, I have stupid stoner moments, and plenty of them. But I've also solved complex problems, eased physical pain, had deep spiritual insights and awakenings, and stopped taking anti-depressants with dangerous side effects. And experienced much growth, creativity and satisfaction in my musical development. Personally, I'm thankful for this good plant.

While we were recording my first record "Queen of the Devil's Rodeo" I was telling my co-producer—David J Russ—about the Peters Brothers, when suddenly I remembered that reference to the Queen Song. We had a good laugh about it. Then I had an idea…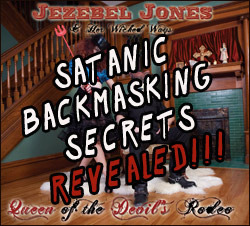 For laughs, I recorded me saying "decide to smoke marijuana" and we reversed it, adding it to one of my songs; a homage to Queen, a bit of a "fuck you" to the crazy Peters Brothers and a pro-pot statement all wrapped up in a private joke, buried in a song. You can listen to The Prisoner here; the marijuana bit happens around 1:42, and we threw in an extra backmasked bit at the end (reversed a piece of the whole song) to give it an authentic "Satanic" sound.

Happy 4/20 & Happy Record Store Day 2013!!! Please support legal weed AND your local record stores.

-Jezebel

P.S. As I'm writing this post, I'm playing Queen's Greatest Hits on vinyl. And smiling. Hail Satan!

P.S.S. And if you missed this awesome Backwards Masking DJ mix of 'Another One Bites the Dust', check it out.