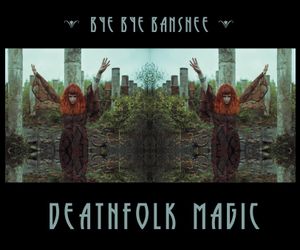 I honestly feel like I've been preparing for this troubling time for the last 10 years. Maybe my whole life.
When I barely escaped death in back in February 2010, I went on a journey—both musically and spiritually—to explore my views on death, particularly my own.  Although I had rejected my Catholic-turned-Evangelical upbringing many years before, I realized I still had a lot of fear about death and dying...this fear was directly linked to the mythology I heard in childhood about hell and the devil.  Yes, although I no longer believed the fire-and-brimstone Sunday school stories of my youth, the conditioned fear still remained.  It was a fear that clung stealthy to the undersides of everything...I never really acknowledged Death until the day my house burned to the ground and I was forced to face my own mortality.

In the wake of the fire, my life was in shambles and I struggled to put my life back together after losing everything.  I put out my first record "Queen of the Devil's Rodeo" and worked techie day jobs off and on to support myself and my music.  But when I moved to Austin, TX a couple of years later, things took a turn for the worst.  I was jobless, semi-homeless and felt quite hopeless.  My dogs were aging and not doing so well.  It was then I took the time to grieve my past and impending losses; and I started researching and writing songs about death. I needed to address my mortality, study death culture and find a better way to deal with the inevitable loss of self...and others.  When I moved to San Antonio, I learned more about Dias de los Muertos (Days of the Dead; in San Antonio and other places it's a multi-day celebration) and Santa Muerte (Saint Death). I learned that death could be talked about openly and even celebrated for its memorial of—and connection to—those we've loved and lost. I lost my first dear doggie right before the holiday that year...and second one had a fatal heart attack on my move to Seattle.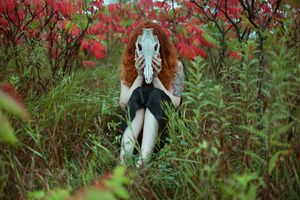 While I was in Seattle, I wrote more death songs (some about said dead doggies) and I stumbled my way into the death positive movement. I had been following many of its leaders for years, but connecting with them—and performing for them—in person at the Death & The Maiden conference in England in 2017 was the clincher. I believe that death and grief should be healthy topics of conversation for every person in every society. I'm living proof that addressing mortality and making peace with death can help you find a more peaceful, joyful life. It has an amazing ability to put things into perspective.
 
Not quite two years ago, I released my first death-focused music offering, The 'Deathfolk Magic' EP under the band name Bye Bye Banshee. It was recorded/mixed/mastered by Tom Garneau (Prince, Sting), co-produced/mixed by Jeff Crandall (Swallows, J. Briozo) and features some amazing Twin Cities musicians, like my friend bassist and composer Chris Bates and his brother JT Bates who is the weirdest, coolest drummer I slightly know. Aaron Kerr is also amazing on the cello!!!! Jeff Crandall added some eerie hammond and backing vocals and Brett Hansen skillfully plays a bit of lap steel and electric guitar.

I'll be honest--the EP release in late 2018 was a bit of a mess.  The publicity firm I hired really let me down...took my money (of which I had little) and didn't do what they promised to do.  I knew Deathfolk Magic wasn't a commercial release.  It needed a special audience, like the very receptive live audience I had in England the year before. I was specific about the type of audience this was for, but they dropped the ball and sent it to their normal list (some of which they pay) of mainstream bloggers, radio peeps, etc. This publicity firm also insisted that I have an EP release show, which I suspected I would lose money on (and I did).  At any rate, it was the final straw (of many, many, many) that made me completely disgusted with the music "business". Besides a few one-off performances, I've been creating and woodshedding in lots of solitude since then...most recently in Tennessee.

Worldwide people are hurting. Some folks may feel like they are truly facing their own mortality for the first time. Or they've lost a loved one. Are afraid they might lose a loved one. Or feeling especially close to death...and they don't even want to say that word...DEATH. We can't avoid it any longer. People are dying and so many more are doing to die. Probably some of our friends and loved ones.  But we can start to address the fear of death, start having honest and healthy conversations about it, meditate on it. Understand that death, too, is a gift; its brevity makes life worth living.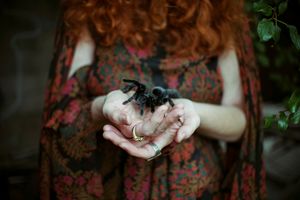 I didn't write these songs because I thought they'd get radio play. I didn't write these songs because I thought music critics would like it. I wrote the Bye Bye Banshee songs as an antidote. Not against death—as there is no cure for that—but as an antidote against our fear of death and denial of grief. As I played the songs over and over, it released a lot of my fear...the one described in the first track "If I Die in My Dreams".  It released a lot of grief, too.  This project is deeply spiritual and intended to help others.  Today I'm making the Deathfolk Magic EP free for all to download...there's no suggested donation or email sign up required. Feel free to share it with others if you think it might help.

Please stay safe during the coronavirus pandemic, for the sake of yourself and your community. Wash/sanitize your hands regularly for fuck sake and stop touching your face.  You can re-program yourself to NOT touch your face by wearing a bandana or homemade mask. Stay 6 feet away from others if you can. I know we can do this...I have a very strong sense that we will come out of this better, stronger and kinder humans than we were before.

Kindest regards,
Jezebel

All photography: Lars Kommienezuspadt